EasyHatch
A unique and patented hatching substrate.​
21 % Lower mortality
33 % Greater fry capacity
60 % Less cleaning
EasyHatch is a hatching substrate with a perforated grid and support functions in an integrated unit, without mats that are placed ontop of a grid. This prevents collection of dead matter, simplifies the cleaning and reduces the risk of fungi. In addition, air bubbles and related problems with pin ching/squeezing of yolk fry are prevented.
Great fry capacity and good support The bottom in EasyHatch is reinforced and perforated with round holes for even and good water flow. The pegs on the upper side are of various heights and placed between the perforations with a position adapted to ensure good support for the fry. This limits the swimming activity and may so prevent yolk abstriction.​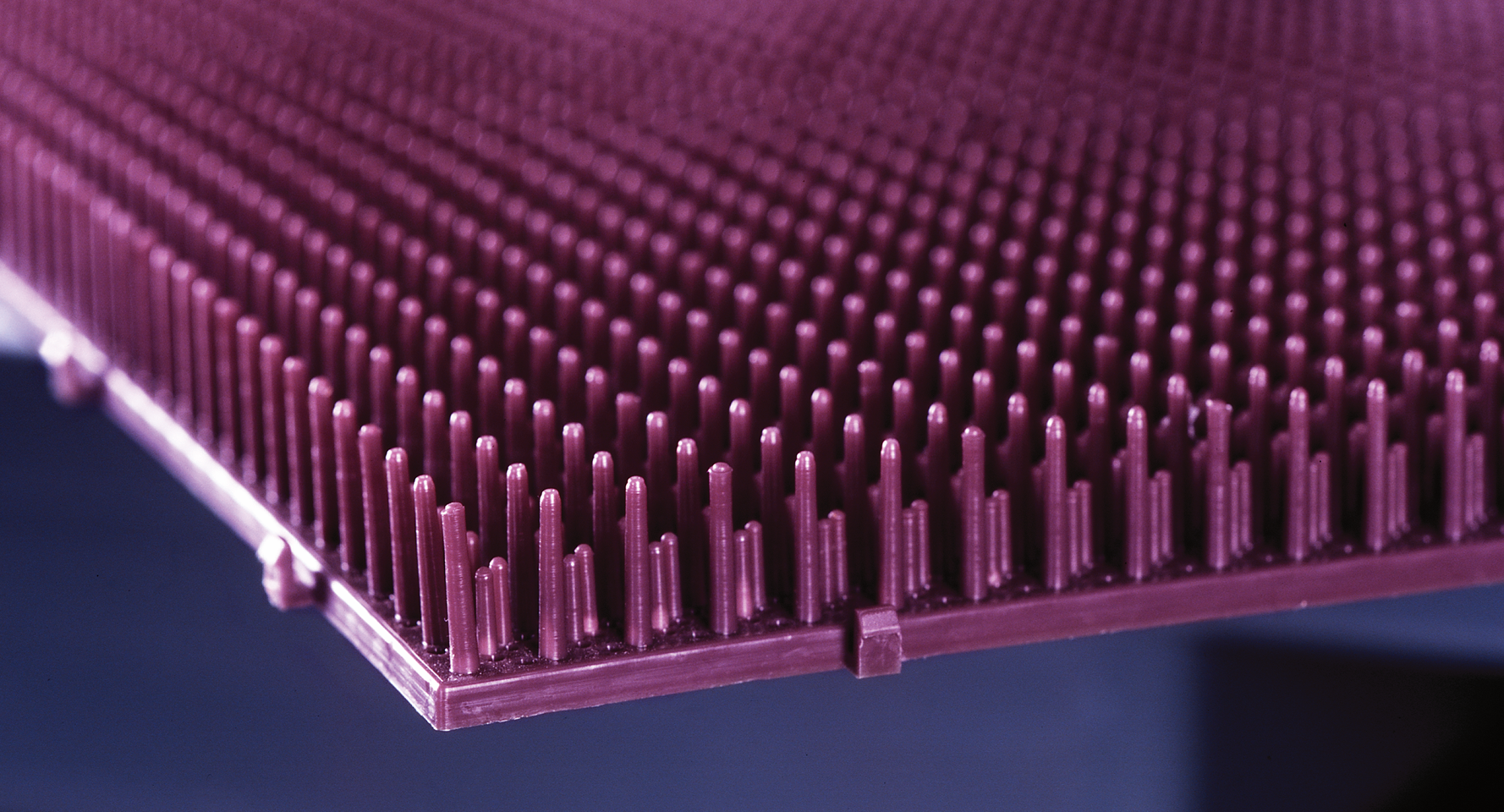 Simple assembly and easier cleaning
EasyHatch is equipped with reinforcement ribs and locking mechanisms along the sides for connecting several sets and may thus easily be fitted directly in different types of hatching systems without support plate. With EasyHatch, it is easier to empty the substrates of fry before the start feeding. Cleaning and disinfection for new introduction of roe is also considerably easier and less time consuming.
Advantages with EasyHatch
EasyHatch was compared with one of the traditionalhatching substrates at two of Marine Harvest's facilities. In connection with the actual operational work, EasyHatch hatching substrate came out best with clear advantages in the following areas:
Redusert fare for at yngel havner mellom matte og karbunn
Renhold/plukking av død yngel under drift
Renhold etter avsluttet sesong
Total hygiene under drift
Driftslederne ved de to avdelingene har oppgitt at arbeidstimer til vask/renhold reduseres med 4-5 ganger ved bruk av EasyHatch kontra det tradisjonelle klekkesubstratet.
Documentation
The new EasyHatch substrate and the new CompHatch hatching cabinet have been compared with the traditional method which is traditionally used for salmon at the installation at Kvingo as control: Astro Turf substrate in 1m tanks with hatching inlays. At Fister Smolt, only substrate was compared to Astro Turf, both in 1m tanks with adapted hatching inlays as well as in 0.78m2 round hatching inlays placed in 1m tanks. With reference to growth in the yolk bag phase and through initial feeding, no significant differences were recorded at Fister Smolt between the two types of hatching substrate. At Kvingo, decisively better values as to survival up to the age of 4 weeks into the initial feeding were recorded for EasyHatch. Up to 21% lower mortality than with Astroturf, depending on the type of incubation unit. The weight of the fish 4 weeks into the initial feeding showed a small difference, median weight of 0.77g for EasyHatch compared to 0.82 g for Astroturf. As to practical operations, EasyHatch hatching substrate came out best with clear advantages in the following areas: simple assembly, reduced risk of fry getting caught between the mat and the bottom of the tank, cleaning/picking of dead fry during operations, cleaning after the end of the season, total hygiene during operations. The project proves that EasyHatch has a capacity of at least 33 % more yolk bag fry than Astroturf without compromising survival and growth. The hatching cabinet CompHatch with EasyHatch gave 21% lower mortality than 1m tanks with Astroturf. 1m tanks with Astroturf weight at initial feeding at 0.17g compared to 0.16g for CompHatch. The hatching cabinet EasyHatch requires considerable less space than a 1m tank and the roe incubation in an eight tray/drawer cabinet is carried out in approximately 25% of the area compared to
​